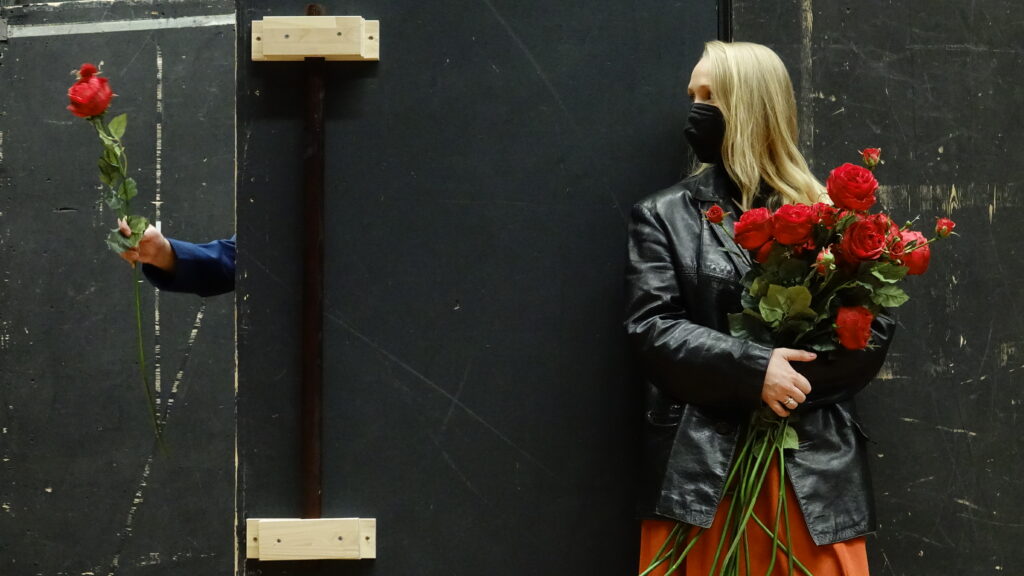 Heather Phillips in rehearsal for Bianca e Falliero at Oper Frankfurt:
Photo Credit Karoly Risz
Hello OperGermany readers, 
My name is Heather Phillips. I am an American opera singer, about to make my European Operatic debut in a new production at Oper Frankfurt in the soprano title role of Rossini's Bianca e Falliero. My path to this moment hasn't been easy. It's seen a two-year delay from the pandemic (of which we are still managing in rehearsals through mask wearing and daily testing) and it's taken an enormous amount of hard work, perseverance and a deep belief in my talent to get here. But as they say, "No man (or woman!) is an island," and I would not be at this important moment in my career had I not received guidance and real-world advice from mentors, colleagues and singers who have gone before me. One of those people is Larry Bakst, the owner and editor of this website. When Larry recently asked if I would write a blog post about my experience auditioning and working in Germany to share with his readers, I knew I would be remiss not to share what I've learned thus far. I am happy to contribute to the community he has built that has been a big help to starting my career in Germany.
To begin, I have to say a few words about taking career advice, especially from strangers online. I believe today's "advice-for-singers" online landscape is overly saturated, misleading and young singers are encouraged to spend more time focusing on career strategy, social media engagement and "how-to" guides, than they are encouraged to work on their artistic product. Also, as much as it saddens me to say this, young singers are often seen and targeted as a large pool of currency, rather than talent to nurture. What is unique about Larry's site (and I know this from my own experience having consulted with him since 2017) is that I have come to know Larry as a genuine & motivated mentor who cares deeply about passing along real-world experience so that more highly trained American singers can gain the tools they need to be prepared to audition and work in Germany.
So, with all that being said…I'm going to share the hard facts as they have presented themselves to me in my life and career experience. I hope they might add to your "toolbox" to help you feel a little more prepared as you make your start on your artistic journey in Germany.
1. USE THIS RESOURCE: You've tapped into a great resource with this website. Take advantage of it and read all of what is compiled on this site. Larry has compiled and organized a huge amount of REAL-WORLD information that I haven't seen or received from other big name young artist programs I've been in or high-profile opera professionals I've
met. His 30+ years of experience working in Germany documented on this site provides you with a huge head start in educating yourself about how the German opera system works. Which brings me to my next point…
2. KNOW THE MARKET: Opera professionals appreciate singers who have done their research about the general landscape of opera in Germany. Again, really use this website to do that. For example, learn about the Fach system how it works, watch German productions online to see the kind or art produced here (tip: it's very different from opera in the US). Learn about and understand the market you are going to invest your time and money presenting yourself in before you make the leap to Germany and Europe. 
3. LEARN GERMAN. I know, everyone says this…but it's a cold hard fact! No matter the level of opera house you are working in or how many competitions you have won…being able to speak and communicate at least at an intermediate level will help you tremendously. I achieved my B1 level of language study at Institute für Sprachvermittlung in Bonn (an
affordable language school that also offers classes online for international students). Larry also has other recommendations on this site. All my auditions I have done have been conducted in German. You don't have to be perfect, but it will be a feather in your cap if you are able to communicate at an intermediate level. 
4. HAVE A STRONG VOCAL TECHNIQUE: If you are questioning anything about your vocal and technical abilities…don't come to Germany. Take a year or two to attend to your issues with a good teacher that has your best interests at heart. The system here in Germany is rigorous. It is more physically and vocally demanding than the US and if you do not have a strong grasp on your technique, the system will chew you up and spit you out. Unfortunately, I have seen colleagues come to Germany too soon and have this happen to them. Be wise. Think of the long-term. 
5. BE AN ORIGINAL: The last thing a German opera intendant wants to see is another cookie-cutter singer with no imagination. They produce a massive amount of opera here and that means they can't afford to offer the public carbon copies. The demand for "out-of-the-box" theatre here is high and in casting decisions, it often supersedes vocal mastery or beauty of vocal aesthetic. Now that doesn't mean to forget about strong vocal proficiency and technique (having a strong technique is CRUCIAL to your survival working in Germany and remember…opera is about the voice!). Overall, what I mean is that the demands here are much higher for being a unique artist, with a strong point of view and the ability to move well onstage. Your stage presence and the imagination you bring to your auditions must be as strong as your vocal abilities and language skills. 
6. DON'T EXPECT THINGS TO HAPPEN OVERNIGHT: Starting a career in a foreign country takes time. I began my quest for a career in Germany in 2017. I signed with a German agency in 2018 and didn't receive my first opera contract for my upcoming German debut until 2019. (I began rehearsals for this current production of Bianca e Falliero in January of 2020 then had to return home due to the pandemic as the production was postponed until this year). So it took me two active years to really get my "foot in the door" and "feet on a stage" here. Good things take time. But they also shouldn't take too much time. So, if you aren't getting consistent encouraging feedback from agents, opera houses or industry professionals, take that into consideration as well. Be honest with yourself as to whether or not progress is being made, or if you are just spinning your wheels.
7. BE WILLING TO BET ON YOURSELF: If you have what it takes from what I listed above (operatic talent, strong technique, unique artistry, a good grasp on the language, knowledge of how the business works, perseverance and
patience) it is absolutely an achievable goal to work in the largest producing operatic country in the world. Furthermore, if you are confident in all of these abilities, you will have the courage to BET ON YOURSELF. No agent, competition or industry connection will be a better ally to you than your own knowledge, strengths and abilities. It is a competitive field. Only
the strong survive. Prepare accordingly. And finally I'll end with this: all the information I provide here is 100% honest and rooted from real life experience…but there will never be a better teacher or source of advice, than your own experience. Own your path. All of it…the good and the bad and take comfort in knowing it requires both to make progress. Also, your career is unique to you, and you can never replicate the career path of any other singer. So don't try to. Don't cut corners and have the courage to find your
own way.
Hope this helps. 
Ich wünsche Ihnen viel Glück und Erfolg in Deutschland!
Heather Phillips
www.heatherphillipssoprano.com